Are you looking for clarity around something important? Maybe it's something you're thinking of doing, or something you already did but now aren't sure why you did it, or if it was the right thing to do.
LOOK NO FURTHER, IT'S MANIFESTO TIME.
An example of how to write a manifesto…the story behind the dream, which was tucked behind the ice cream…
A Writer's Roadmap is fairly new. I think I got the URL in 2017 or 2018, then it lay dormant while I tried to figure out why I did that. I already had two URLs (patdobie.com and lucidedit.com).
Initially, I picked up awritersroadmap.com to give a home to a nonfiction book I'd written and self-published, called Fiction Editing: A Writer's Roadmap. (Not to toot my own horn, but if you're thinking of spending several hundred or several thousand dollars on an editor for your novel or story collection, this book is for you–spend a little now, save a lot of heartache, time and money later.)
At the time I envisioned a line of writer's roadmaps, one on nonfiction editing, one on how to write a book, and so on. I still do, though the topics have changed; now I'm looking at serendipity, collaborating, and creating. That might all be one book–who knows? I guess we'll find out.
When I resurrected A Writer's Roadmap from its dormant state some time in 2021, the phrase "World domination through writing books" landed in my brain one day. I liked it a lot so I wrote it into the site, right next to the newsletter subscription form!
But I didn't know what it meant. I think you know where this is going…
THAT CALLS FOR A MANIFESTO!
I used the instructions in this blog post: How to write a manifesto. Here is my execution of that process, step by step. Naturally I used my brother's recommended thought-catcher for writers, 750words.com.
Phase 1 – Thinking
Not sure if I stuck to the allotted 10 minutes for this. I did get a little sidetracked on 1000manifestos.com. But here is what came out of that thinking.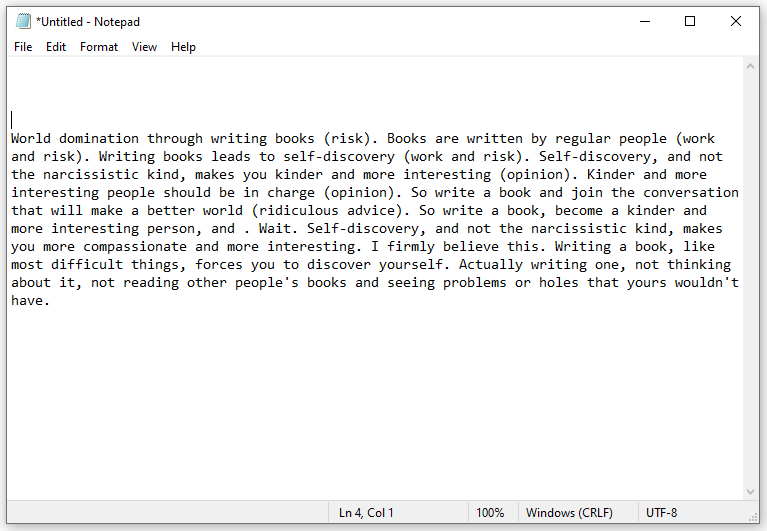 Phase 2 – Writing
This is a 20-minute thing where you just write a bunch of declarative sentences about the topic in collaboration with your 12-year old self (or any age where you knew what you thought).
Then you cut the page up and rearrange the sentences. Here is what that looked like for me, in two steps: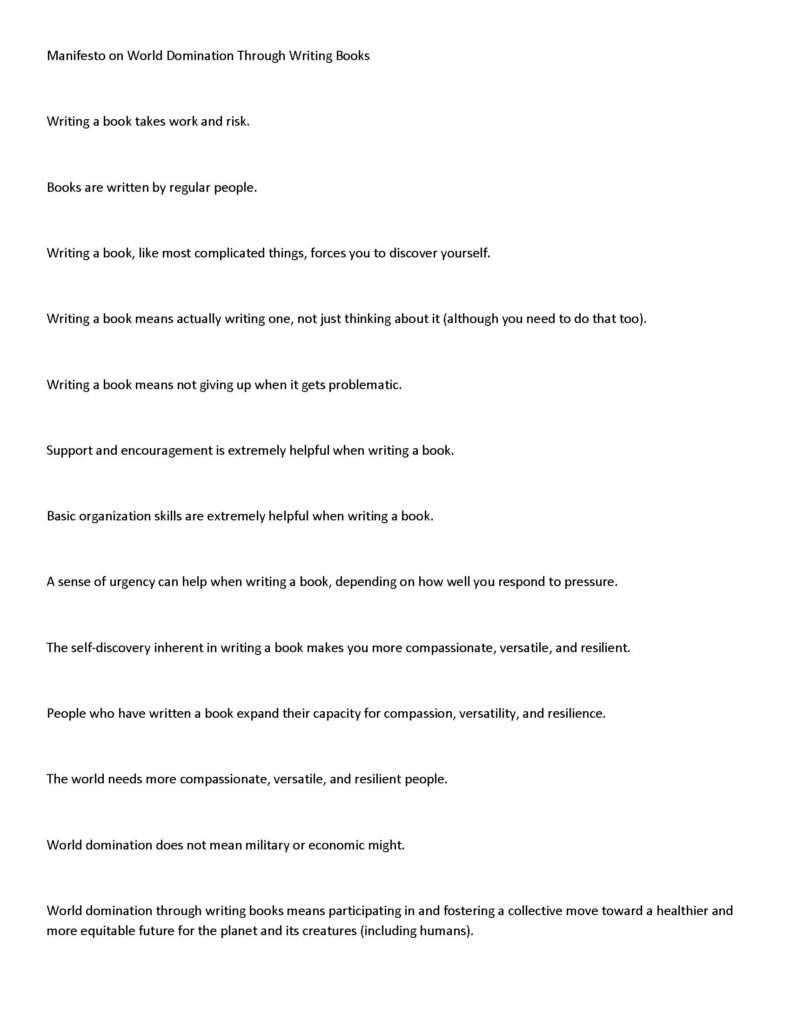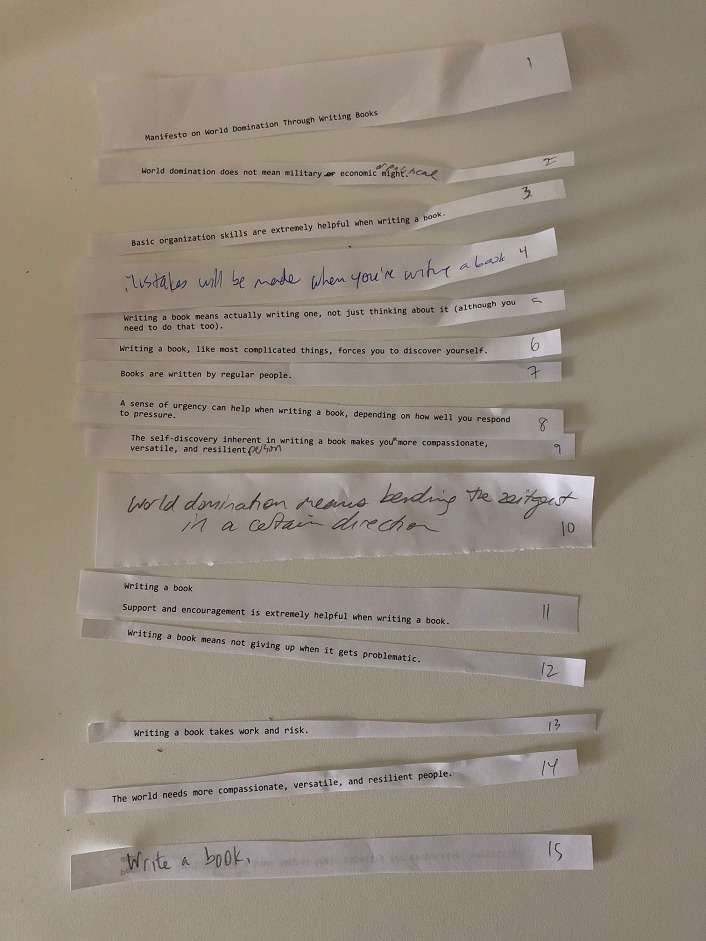 Step 3 – Revision
In this phase you type out the manifesto.
Drum roll, please….
Wait. I'd just like to say that this could be improved on. And it does look like I'm trying to skew the SEO with what I'd like to call poetic repetition. We'll see what happens. Baby steps!
A Writer's Roadmap's MANIFESTO ON WORLD DOMINATION THROUGH WRITING BOOKS
World domination does not require military, economic, or political might.
Basic organization skills are extremely helpful when you're writing a book.
Mistakes will be made when you're writing a book.
Writing a book means actually writing one, not just thinking about it (although you need to do that, too).
Writing a book, like most of life's complicated actions, forces you to discover yourself.
A sense of urgency can help when you're writing a book, depending on how you respond to pressure.
The self-discovery that comes with writing a book makes you a more compassionate, versatile, and resilient person.
World domination involves bending the zeitgeist in a certain direction.
Books are written by regular people.
Support and encouragement are extremely helpful when writing a book.
Writing a book means not giving up when it gets problematic.
Writing a book takes work and risk.
The world needs as many compassionate, versatile, and resilient people as it can get.
Write a book.
---