What are silent writing groups?
These are groups that meet online or in person. They start and end at pre-established times. Participants are expected to write in silence for the allotted time. Group size varies, depending on the time and location.
Are they really silent?
Yes, for the writing portion of the meeting. There will often be a short round of introductions, then the writing. Sometimes there's a break partway through. Some will also leave time for (optional) discussion or socializing after the writing is over.
Five places to find a silent writing group:
Shut Up & Write (SUAW): Based in San Francisco, this nonprofit organization is a global community of over 100,000 writers. It's free to join and the sign-up process is simple. You can search by location or attend online events. Here's a review of Shut Up & Write (by a somewhat atypical writer–before joining SUAW, she was already writing for 3 hours a day!)
Meetup: Meetup is a New York City-based platform for creating local communities of people with shared interests. It was founded in 2002 and now has 28 million members in 179+ countries. Meetup is free to join for individual users. Group organizers pay a monthly fee, and Meetup then leaves it up to organizers whether they charge group members for participation. You can search for groups by keyword or by group name. If you sign up for a group, you would want to RSVP so organizers know how many to expect. With a quick search I found two silent writing groups on Meetup for my area–one meets Tuesdays from 6-8 pm at the historic Joy Kogawa House, and the other meets in the Vancouver Public Library's downtown branch on Saturdays from 10 am to noon.
The Silent Zoom Writing Group (SZWG) is a UK-based collective of 800 academics, postgraduates, and creatives that has run two-hour online writing sessions every weekday since lockdown began. You ask to join by sending the organizers an email from the form on their site.
If you write plays or scripts, consider The Dramatists Guild. This is an American association of playwrights, composers, lyricists, and librettists created in 1919. It's based in New York City, but hosts National Silent Writing sessions across the country. These online events are offered several days a week at various times–see the current schedule here. You do not have to be a member to sign up for an event, and it's free of charge.
Writers' Hour is a UK-based initiative of Parul and Matt of the London Writers' Salon. It's free to join, and you can sign up to participate in virtual one-hour writing sprints that take place every weekday from 8-9 a.m. in four different time zones: Greenwich Mean Time, North America's Eastern Daylight Savings time and Pacific Daylight Savings Time, and Australian Eastern Daylight Savings time (at least, until the clocks change).
Is a silent writing group right for me?
It certainly is! Wait, let's qualify that. It's for you if:
You have a writing project.
You don't mind working on camera (many of the groups seem OK with having your camera off, but it can be very effective to look up at your screen and see other people writing away).
You will follow through and attend the session you've signed up for.
You are respectful of the silence rule.
Why not just write on my own?
"Of course you can," as the hypnotist says on my download of the session called, "Be Insanely Productive." (I did fall asleep during that hypnosis once. LOL
Of course you can write on your own. But do you? That's the question. If you have trouble settling down to focus on a project…maybe one that terrifies you, or exhausts you, or makes you want to organize your desk…an online or in-person silent writing group could be just the thing.
I'll see you there!
---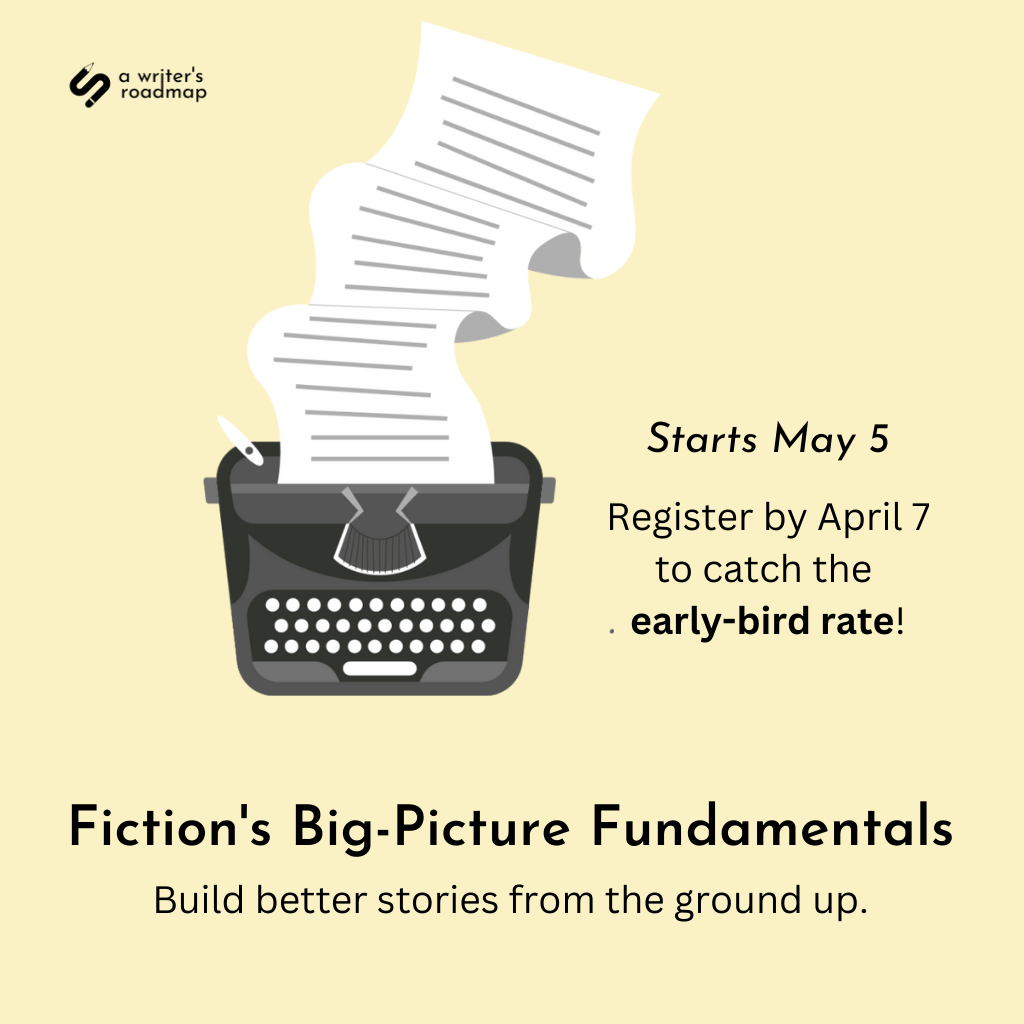 Do you ever read a story or novel and think, "Wow, if only I could write something that good!"
Join me for FICTION'S BIG-PICTURE FUNDAMENTALS: Build better stories from the ground up.
Five weeks, 8 modules, 2 group coaching sessions with Pat.
Save $50 by registering before April 7!
Course begins May 5, 2023.