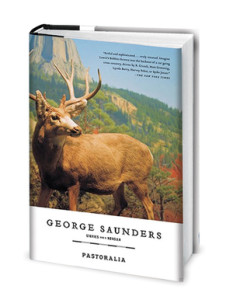 Pastoralia: Stories and a Novella, by George Saunders.
I've never read anything like these stories: interior monologue so skewed and entertaining that the action seems secondary.
But there is action, and it's pretty intense:
[SPOILER ALERT] A boy dies riding his bike, a poor swimmer plunges into a fast river in a possibly doomed attempt to save two girls from drowning, an aunt comes back from the grave to save her relations, a man is afraid to stop working long enough to find out if his son's condition has gone critical.
Saunders is masterful at bringing a protagonist's reasoning from black to white in a totally believable way.
You know what else I like?
I like good people. George Saunders is a mensch. His Substack newsletter, Story Club, has the most welcoming and collegial tone of any newsletter I've ever read. You can tell he loves his work, loves books, loves writers.
I really liked his novel, Lincoln in the Bardo. Winner of the Man Booker Prize. Sometimes short story writers have trouble with novels, and vice-versa. But Saunders did not shy away from doing something complicated, with dead people kicking up a hubbub, and to make it harder, set in a historical period with a real person at its center.
I'm in favor of book tours, too. George Saunders is an excellent speaker and he's going on a book tour with his latest story collection, Liberation Day. He's going to be talking to Tina Fey, for god's sake! And Judd Apatow! And the highlight, Jess Walter, who is so funny that he could have a respectable career in standup comedy. I envy Portland the evening they'll have on November 5.
[note to George's website staff–there's no 's' on Jess Walter.
Signed, a longtime fan.]
---