Thursday Postcard
I'm reading a book by Gretchen Rubin called Outer Order, Inner Calm.
I'm finding it hard to read this particular book, mostly because I keep rolling my eyes.
It's like getting advice on quitting alcohol from someone who's never had a drink. Rubin's modus operandi is systematic. She's organized. Every action is considered.
---
A case in point
Here's a photo of my desk today.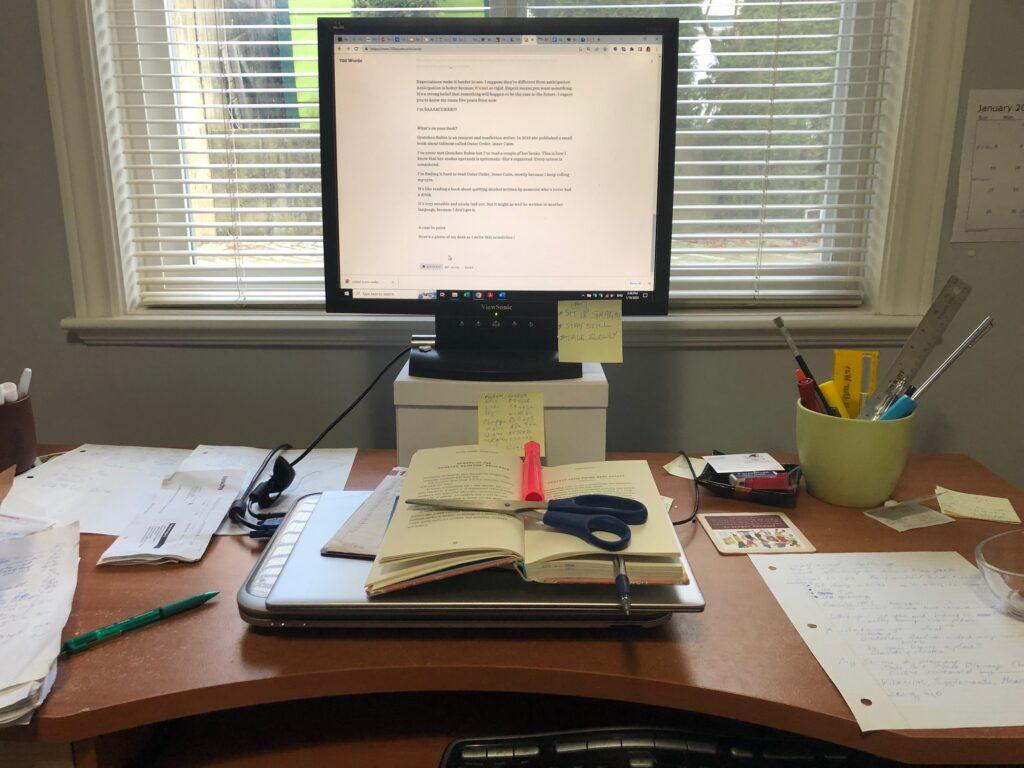 The book on the two laptops, being held open with scissors and a pink highlighter, is the aforementioned Outer Order, Inner Calm. The right hand-page is entitled "Protect Your Prime Real Estate."
Rubin writes:
"…be very selective about what's on the surface of a work desk, as well as in any shelves, drawers, or cabinets that are within easy reach. Unless you're consulting a book every day, don't leave it on your desk. If you have three boxes of your favorite brand of pen, don't store them in your top drawer."
This para is followed by the caveat that messy desks work for some people.
"But even for them," Rubin adds, "work is easier when prime real estate is reserved for the most useful materials."
Maybe so, Gretchen. But then again, maybe not.
---
What is a desk?
I was going to extemporize on the meaning of the word desk, but that wouldn't be wise. According to Merriam-Webster, a desk is:
1
a: a table, frame, or case with a sloping or horizontal surface especially for writing and reading and often with drawers, compartments, and pigeonholes
b: a reading table or lectern from which a liturgical service is read
c: a table, counter, stand, or booth at which a person works
2
a: a division of an organization specializing in a particular phase of activity–the Russian desk in the Department of State
b: a seating position according to rank in an orchestra–a first-desk violinist
These definitions make it clear that although a desk can be a piece of furniture, it can also be a place, an activity, or even a state of mind.
My desk surface at any point has whatever I'm working on plus a bunch of random things. In the photo above there's an uneaten Vitamin E from January 7 in a glass bowl, a paintbrush, a client file for a nonfiction book I worked on yesterday and will probably work on tomorrow, and various other non-essential things.
The post-it note below my screen says:
PAT
* Sit up Straight
* Stay Still
* Talk Slowly
It's from last October when I was filming a course. But that's always good advice, so I left it in place.
Personally, I think that desks are a fluid landscape where things can be lost and found, submerge and resurface, be needed or be superfluous to the task at hand.
Desks are whatever you want them to be and whatever you use them for.
---
What is YOUR desk?
During lockdown, most of my friends and acquaintances were either laid off or working at home.
Although I had an office outside the house, I decided to work at home for a couple of months in case the world was ending.
I used the furnace room cubbyhole where I'd done my Masters thesis. Good times! Fond memories!
My friends with office jobs used their kitchen tables or their spare room (if they had one), or took over a corner of the living room.
It wasn't easy. Acres of office buildings across the land lay empty while employees shuffled their stuff from table to counter to box, trying to keep track of everything and get their work done with their kids and animals underfoot.
On the bright side, catnaps became a legitimate use of breaks.
---
Contest: Send me your desk!
I'm running a contest for the first time ever, if you don't count "guess the # of jelly beans" contests for the PTA.
I'm excited!!!
Contest: Send me a photo or drawing of your desk.
It can be your desk from now or from during lockdown; a piece of furniture or a state of mind.
Along with your photo, send a list of what's on your desk surface.
The two I find most interesting will win a prize.
Deadline: Sunday, Jan. 29, midnight Pacific time.
Prizes (your choice):
#1 A seat in Fiction's Big-Picture Fundamentals, any cohort of 2023 (I'll probably run it 3 times this year; the next session starts Feb. 3).
#2 Thirty minutes of coaching on your writing project. No strings, no obligation to work with me in the future or even remember my name. I'll listen to your situation and give you some perspective or ideas, depending on what you need. My areas of expertise are writing and editing fiction and nonfiction books, editing memoir, and explaining the trade publishing landscape.
How to enter:
Email a photo of your desk and a list of what's on its surface (real or metaphorical) to [email protected] by the deadline.

What do you use for a desk, and what do you think about desks? Send me a note–I love your emails!
Cheers,
Pat