Thursday Postcard
What the hell just happened?
"Oh, the humanity!" as the reporter said when the Hindenburg crashed into a field right behind him.
That's how I feel about my art these days.
---
Case Study #1: Pottery
We might as well call Beginners Wheel pottery "Humble Pie Spinning," because that's what it is: humbling.
Here's the bowl I made in a 6-week beginner's course.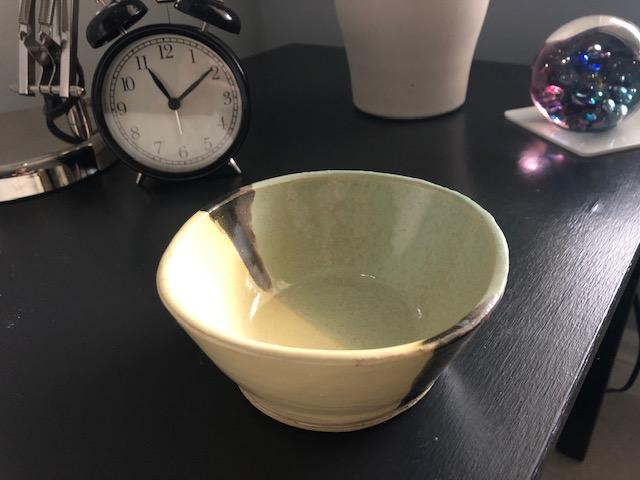 What can I say. This was the best piece I did. You should see the ashtray and the tiny cup. My friend's stuff was way nicer.
Here it is with fruit inside.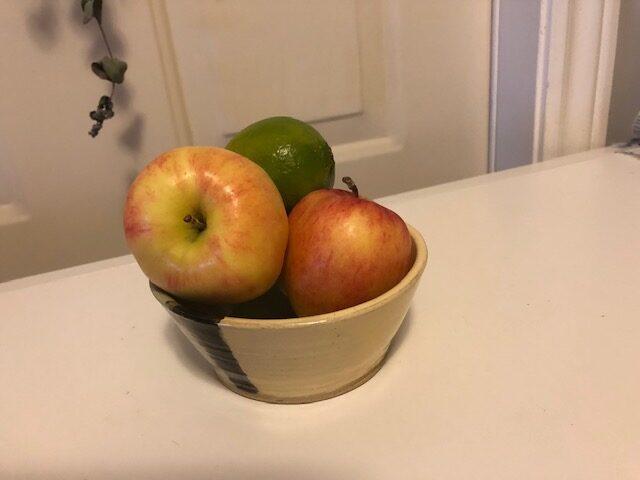 Yeah, it's not a fruit bowl. Apparently, clay shrinks.
---
Case Study #2: Journal
This was my NaNoWriMo project, after I realized that writing a novel in 30 days was NEVER going to happen.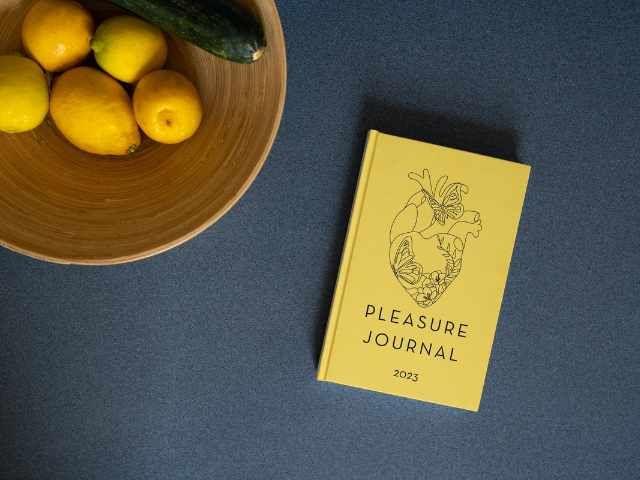 I loved making the journal. I loved the line art by Victoria Rusyn, an artist in Ukraine. I loved the idea of donating some of the net proceeds to Lifting Hands International to support war refugees in Ukraine.
I really loved turning the idea of it into a tangible object: a way to record things you enjoyed, doodle, schedule, make time, do timed freewrites, and generally notice those things that make you who you are.
When I uploaded the completed softcover journal to KDP (Amazon's print-on-demand arm) on December 2, I was elated. I'd made something cool.
I'd already accepted that it wasn't going to be as luscious as this self-care journal I bought to get an idea of what low-content books actually feel like. This one has 4,444 great reviews for a reason, by the way. It's cool, if you like that kind of thing. And it's nicely done.
So I was feeling good until I published. Then, in the spirit of A Writer's Roadmap, I discovered that mistakes had been made:
My journal wouldn't go online for 10 days
I made a typo on the first page (this is particularly embarrassing for an editor)
To fix that typo, I'd have to take it down, which would mean another 10-day wait
This wouldn't work because the journal starts Jan. 1, 2023. It's an actual calendar/journal
I can't get author copies in Canada without waiting 4 weeks and paying a ton for shipping
Which means I can't really afford to give it away to as many people as I'd like to
---
What is the compromise?
Today I asked myself, "Pat, who are you compromising when you finish something and put it out in the world even though you're not feeling as great as you did when you made it?"
My ego, that's who.
The bowl and the journal are not as great as my ego wanted them to be.
Welcome to reality, ego!
---
What does this have to do with writing?
Everything.
If there's anything I've learned from working with writers, it's that if you can't compromise, you just won't get your stuff out there. If it's not out there, it won't get read.
This could be why I don't generally submit my work except under very rigid circumstances that I won't get into here.
That changes NOW. My stuff will never be the perfection I pictured. The bowls will shrink, the journals will have typos, there will be mess and disillusionment.
There will also be the joy of making something cool, something that didn't previously exist. There will be the sheer laugh-out-loud moments you didn't see coming. Even for the ideas that tank in the execution.
I had so much fun making the tiny bowl. I had so much fun making the journal. I loved rebelling against NaNoWriMo's focus on word count. Yes, NaNo is completely optional! No, I didn't even register! Ha ha! That's what it's all about, peeps!
What are you willing to compromise on? Let me know; I love your emails!
Cheers,
Pat
p.s. For those about to submit a manuscript to agents or publishers…here's an excellent and illuminating post from Sarah Cypher about how her agent figures out who to send the work to. I recommend Sarah's Substack newsletter The Bird's Eye for an inside look at the process of being published!